The LinkedIn profile headline is the first line of text underneath your name in your profile. It is the very first place you can add a sentence. This bit is often used to write a job title or, for some, a variety of job titles.
The LinkedIn headline section is very important because the words you choose can directly impact a reader's interest in checking out the rest of your profile. The words you choose can also impact how easily your profile is found in search.
In this article, we will review a few examples you might get a few ideas from and go through a few specific steps you can take to create the best type of headline for your particular needs. In the end, you should have what you need to create a headline that pops for the people you want to attract.
Let's get into it:
Examples to learn from
There are two main strategies you can apply to create a LinkedIn headline: create a headline around your professional roles or use the space to share a descriptive sentence to get a potential reader's attention.
Here are some examples of each to give you a few ideas:
Professional role headline
In this profile for Kern Carter, you see that he has chosen to not only share titles around what he does but to also explain it in the same sentence. This can be a very effective strategy to use if you are doing something that your target audience might not be familiar with.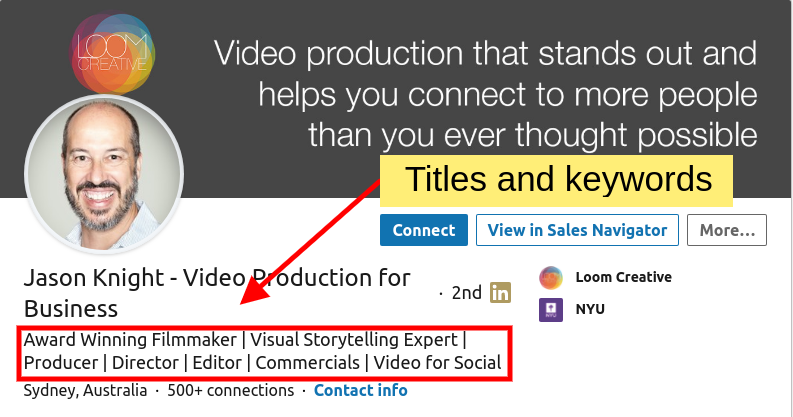 The above headline is for Jason Knight, a video production specialist. Here, we can see he has added a variety of different keywords to make it easier for him to be found. Notice how the very first title he goes with is "Award Winning Filmmaker".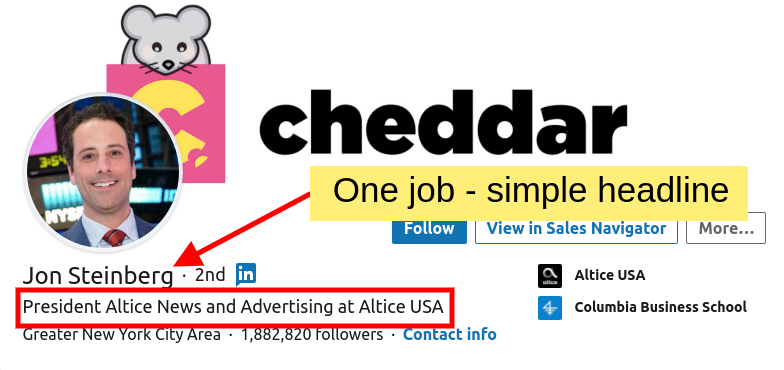 Jon Steinberg is the president of Altice News, a video media company. He has simply gone with listing his current role. This can be a good strategy to use when you are fairly well known, just need a basic presence and don't want to be overwhelmed with outside inquiries.
Share a descriptive sentence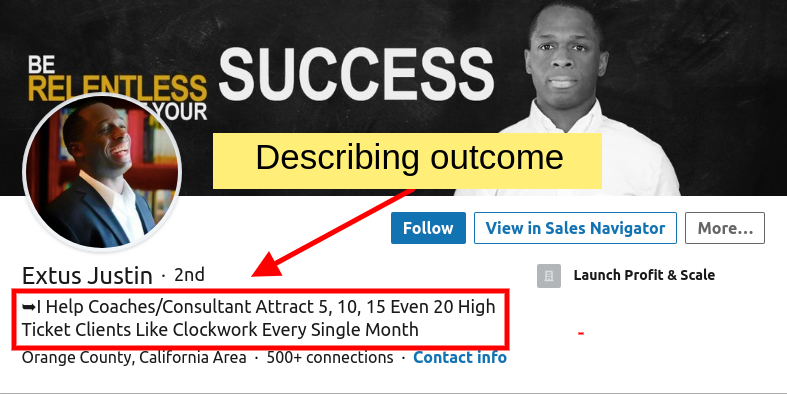 In this profile, Extus Justin has chosen to describe in precise detail the outcome he can deliver to his target audience. This can be a very effective way to get people who are interested in his offer to look at his profile.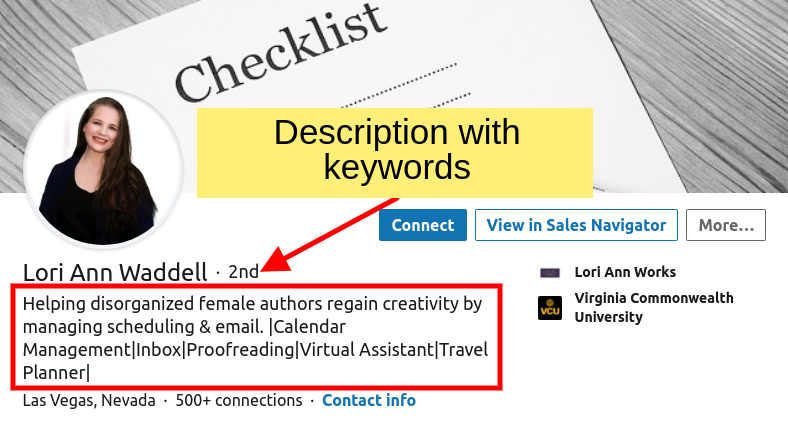 Lori Ann Waddell is a virtual assistant who helps small businesses, solopreneurs and freelancers get their time back. Here, she has gone for a combination of describing what she does and for who with selected keywords. Many of these focus on deliverables.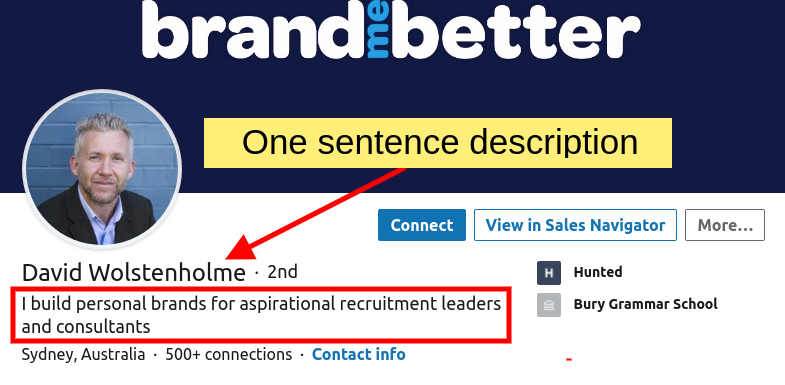 David Wolstenholme has gone with a very simple headline that simply describes what he does. Keeping it simple makes the text more readable. However, a drawback to this approach might be that you lose out on potential keywords. So if you choose to do this, make sure there are important keywords in the line you end up using.
Action items:
Now that you know why the headline matters and have seen a few examples, let's break down your next steps for creating a great headline:
Clarify who you want to check out your profile.

Once you know who you are targeting your profile towards, you can then ask yourself what you want to share if you only had one or two sentences to convey your idea.

Look at what other professionals like you use in their headlines.

Once you know what others in your industry are doing, you will have a fair idea of how you can stand out. While you do that, ask yourself which professionals stand out to you and why.

Pick one or two keywords you want to use in your headline.

You may have gotten some ideas about keywords from the profiles you looked at earlier. To pick the best ones, ask yourself what words your target audience would use to search for someone in your profession.

Write 10 different variations of your headline.

Yes, you read that right—10 different variations. That is how important the headline is. The more variations you have, the larger the pool you can select from.

Pick one headline to go with.

Make sure the one you go with suits your purpose for being on LinkedIn, is descriptive and is at least slightly different than other professionals in your industry. That way you know you will stand out from the crowd.
Final thoughts
Coming up with a good headline can be an effective way for you to identify the essence of who you are as a professional and how you ideally want to come across. The limitation on the number of characters you can use can be very helpful in forcing you to get to the point fast.
Once you have gone through this exercise, writing the rest of your profile should become a lot easier because your headline can function as the frame to put the rest into.